Cypex.co.uk Review:
Cypex - drug metabolism in vitro using recombinantcytochrome P450
- Cypex - drug metabolism in vitro using recombinant cytochrome P450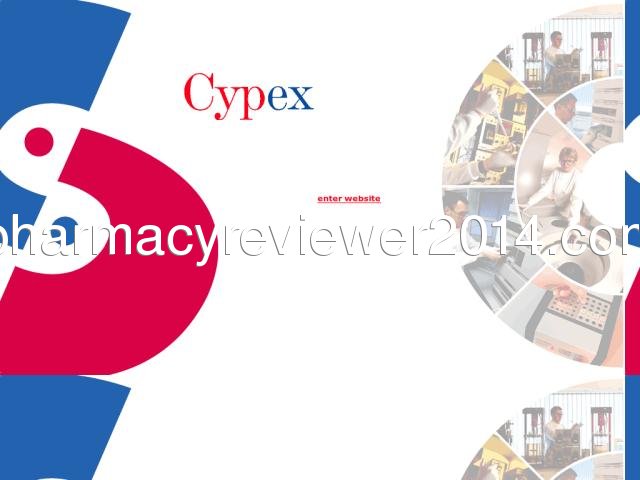 Country: Europe, GB, United Kingdom
forrest - it does everything it does wellI think it did everything that it did very well.
It explained differences between T-SQL and ANSI SQL in situations that called for it in a non-biased way. He uses both.
The author comes across as an expert that really knows the SQL trade, he should he has been doing it for a long time and is valued peer in the SQL community.

If you know nothing about sql get it.
If you know a some sql get it.

If you know a lot about sql programming get it and give it to someone that bugs you too much about SQL.
If you want to learn a good writing style for technical learning subjects get it.

This book is one of my all time favorites on programming etc.
Callmemike - Initial ThoughtsI received my TP Saturday morning, 4 days ahead of the estimated delivery date with Super Saver Shipping. Lucky for me it was a very light weekend, so I had plenty of time to use it. As soon as I turned it on, it started updating itself, and within 10 minutes I had Android ICS and a camera update installed with no effort on my part.

I'm really a freak for electronics, and though I can't afford to actually go out and buy everything that comes out, I can certainly appreciate nice new devices. I just bought my wife an iPad 2 a week ago. She's been using an iPhone for a while now and likes it, so it made more sense to keep her in something that didn't require learning a new device. Same chargers, apps, etc. I also use an iPhone, but I've been using an Asus laptop for awhile and really like the quality of their products. I also carry an Android phone for work, so I'm fairly familiar with the OS, apps, etc.

I say all that to preface the fact that I've got both the iPad 2 and the Transformer Prime to compare, and I own an Asus netbook, an Asus 17" laptop, an iPhone 4s, and an iPhone 3gs. I'm not on anyone's "bandwagon", I just like different devices for different applications.

The Prime is beautiful. I know that doesn't have anything to do with performance, but it needs to be said. The spun-metal back doesn't show fingerprints at all, but I'll agree with the other reviewers that have said the front is a fingerprint MAGNET. The included cleaning cloth works very well on the Gorilla Glass, though, so I'll keep it handy. The tablet feels solid... one advantage of the metal back plate. It doesn't feel as though it would flex at all. The corners are just rounded enough that they don't dig into your hands while you're holding it. It would be a little heavy to hold up to read while lying in bed, but I purchased a pretty nice case with it that converts to a stand: MoKo(TM) Premium Quality Slim-Fit Folio Cover Case with built-in Multi-Angle Stand for Asus Eee Pad Transformer Prime TF201 10.1-Inch Android Tablet

The screen is extremely clear and bright, and with the tablet set in "Balanced" performance mode, "Super IPS" turned on, brightness set on "Auto", I never noticed the transitions in brightness (but it did change, I just didn't notice when it happened like on some devices). I think you could easily sit outside on a bright day and read fairly easily with this tablet. Also, using the aforementioned settings, I got close to 10 hours out of a full charge. That may not seem like a big deal, since that's what the specs call for, but I was using this thing HARD for the first full day. We all know that when a manufacturer calls out battery life, it's normally based on best-case scenarios. I do fully intend to add the optional keyboard dock later, which adds additional battery life and more port options.

The screen transitions are very fluid. I downloaded Riptide and a couple other games and they are very, very smooth. I especially like the ice cube Live Wallpaper that also indicates battery level. I've been using Google for mail, docs, calendars, etc. for several years now, so I was very happy to see how well all those are integrated. You're not locked into using the Google stuff though, and setup was very easy when adding my email account from work. I was a little concerned about there not being any kind of tactile "home button", but having all the controls integrated to touch-type controls feels very natural after a few minutes of use. All the touch points to access system functions are intuitively placed. I read a couple reviews about the power button and volume rocker being too small and poorly placed, but I didn't find them difficult or inconvenient to use, other than the fact that when you're looking at the tablet in landscape mode, both of those are located in the top left corner of the device. If you hold it in portrait mode, they're positioned in the more natural-feeling upper right hand corner (I'm right-handed). In the 20+ hours that I spent messing with it this weekend, I only had it in portrait mode for a few minutes. Everything looks and functions quite well in landscape mode.

The touch screen is very responsive, pinching functions are smooth as well. Zooming, scrolling, and "swiping" operations are handled easily with no lag or stutter.

User setup options and preferences are extensive, which is one thing I personally like compared to the IP2. I love customization, and this device allows plenty of it. My wife loathes "tweaking", which made the IP2 a better choice for her.

My wireless network showed up right away and connected without incident, and signal seems to be fine everywhere in the house. We have 2 wireless routers, one in the basement and one on the second floor, and it automatically switched to the strongest signal in relation to where I was in the house. I can get an adequate signal from the router in the basement while in all the rooms of the house, so the recent reviews of poor WiFi signal reception don't seem to be an issue for me.

I didn't take the unit out and drive around to see how will the GPS works, because honestly that's not what I bought it for, but it worked fine in the house with Google Maps and Latitude.

I read some stuff on the Kindle app, and watched several shows on Netflix. Loading and playback of all types of media is fast and very, very smooth. I'm going to start working with some other apps like SplashTop Remote and some other boring apps that relate more to work than play. I did set up and access my personal laptop with SplashTop.. the tablet is a much better option for remote access than a phone.

All in all, I'm VERY pleased with my decision to purchase this tablet. The build quality is as good as I expected from Asus, and the performance is better than I had hoped for. I understand that the next version of this tablet is already in development and may possibly be released within a few months, but such is the timeline for technology.