M.icma.md Review:
I.C.M.A. International Consortium for Medical Abortion
- The International Consortium for Medical Abortion establish an international network of organizations and individuals interested in medical abortion, including for those working to make medical abortion available in safe conditions for women.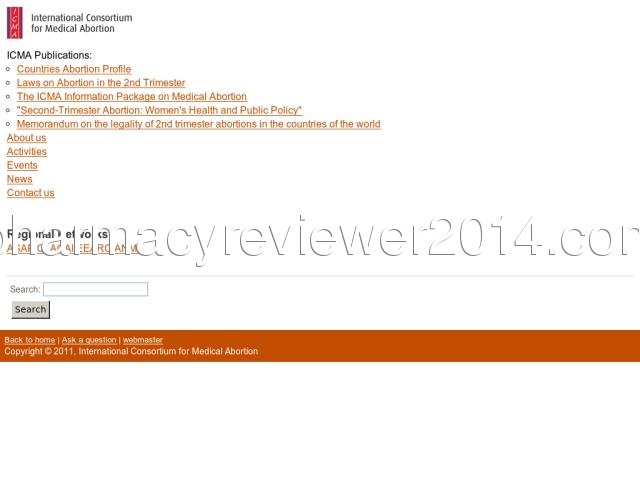 Country: Europe, DE, Germany
Mr. Anchovy "He reads books!" - Warning: Description on Package is Accurate!As a Man of Today, I like to consider myself open-minded, especially in the areas of hygiene, roleplaying, and writing tools. So when I saw BIC Cristal for Her, I thought, "Is that a spelling error? Did BIC mean to write 'Crystal' and forget how? Or were they really comparing their ink-filled shaft to an expensive champagne, or even better, a famous telenovella?" There didn't seem much point to pondering it further, but I was curious as to how these pastel-hued implements of composition would work for someone such as me, with superfluous nipples and a penchant for watching pro wrestling. So I clicked a pack into my shopping cart, and then bought a CD of Clutch's newest album, "Earth Rocker," and a pack of disposable personal wipes for, you know, just to get that total above $25 and qualify for free shipping.

A week to ten days later, Clutch was blasting on my stereo, my hinder was fresher than a spring cotillion, and a BIC Cristal was in my hand. It was that purple one, second from the left in the pack.

Well men, let me tell you. That sucker slipped through my fingers faster than a $20 at a strip club, and you know what I'm talking about. I couldn't grip that girl wand no way, no how. Was it witchcraft? Some sort of BIC-Chick Power Stick? Beats the holy heck out of me.

Finally I picked it up with two hands, and do you know what happened? No you don't, because you weren't there, but I'll tell you. I started to write down my feelings. And I dotted the I's with little hearts using the pink pen (second from the right in the pack). And I regretted putting on that new Clutch CD, and really wished I had some Ani DiFranco.

Take it from me, muchachos. You don't want any part of this pen.
ds7649 - Great OS, ignore the hatersI'm completely baffled by the negative reviews. I've been using Windows 8 (beginning with Developer's Preview) on my 5 year old laptop and Windows 7 on my significantly more powerful 2 year old desktop over the past 2 years, and Windows 8 has consistently booted faster, performed better, and was more reliable than Windows 7, despite the age and power difference between the two computers.

And I love Windows 7.

The complaints about the UI are senseless and reactionary. If you want to, you can use the OS exactly like Windows 7 99% of the time. In fact, most of the changes that would affect your desktop experience are almost objectively positive: faster boot times, improved UI for the task manager, improved copy/paste dialogue box, more functional UI in the Explorer, overall big performance boost.

The people who claim that this OS has hurt their workflow are either straight-up lying (since again, you can use the OS exactly like W7 99% of the time if you choose to, and even in the Start Menu things like searching are faster and more streamlined), or has used the OS for 5 minutes before rushing to write a negative review without actually learning to use a new product.

As for Metro, I absolutely love it. Granted, I've been using the OS and Windows Phone for a couple of years now, but as someone proficient in design/visual arts, I think that the UI is beautiful, and I think most others knowledgeable in the field (without significant biases against Microsoft) would agree considering how every other company has started moving in the same minimalist direction with similar UI choices over the past couple of years. I think that if most people gave it a chance and actually used it, especially with a touch screen, they would love it as well. Metro apps and the market are obviously still very young, but that will all improve and grow as more people (HOPEFULLY) buy the OS.

Also, for all the complainers out there, Microsoft is releasing Windows Blue (8.1) soon and that will fix or respond to many of the complaints made by seemingly stubborn upgraders, including the re-installment of the Start Button.

Lastly, yes this is an OS designed for tablets/touch screens. Tablets are NOT, however, inherently separate or different from PC's. Tablet is a form factor. The Tablet PC (which is the exact concept that Windows 8 is fulfilling) has been around for over a decade. The tablet only became commercially a peripheral device when Apple said that tablets were "supposed" to be such. As someone who's used a lot of hybrid devices (running both Windows 8 and Android...separately), I can tell you that having a tablet and full PC in the same device is amazing. It's simpler, easier, and the device is just more enjoyable to use than a limited tablet or an archaic laptop.

Anyway, my message would be: ignore the haters, this OS is fantastic. Best one I've used yet of any flavor (Windows, Mac, Linux, Android, etc). Go in without preconceptions and realize that there are some big changes from Windows 7, and that change is not necessarily a bad thing. Once you actually use the OS for a little while (I assume if you buy it, then you would plan to use for more than twenty minutes or one day anyway, so taking some time to adjust/learn the new UI is a minimal & worthwhile time & energy investment) I think that most people will love it, especially on new hybrid devices.

This is nothing like Windows ME or Windows Vista, both of which looked much like their predecessors in terms of UI but performed like s***. This is like Windows 95. It's a big aesthetic shift and the UI is different, but it's an important and necessary change. Plus, the OS is faster, lighter, and better in every practical way from Windows 7.
Marilyn G Clark - This is must read and good followup to the NoticerI picked up the Noticer because of a devotional short from the book. Two days later they did one from this book. These books are about choices we make and don't make. About trusting God in those choices and realizing that we dont' have to accept what is happening in the world we can set a different standard.
Bianca K. Waters "Bianca" - Almost the perfect camera!This comes from a non professional point and shoot person;)
This is one of the best cameras available for beginners! It was important to me to be able to pull out the camera, focus and klick as soon as there was a moment with my kids and always moving dogs! All movement pictures came out perfect without me having to set shutter speed or anything! Pre settings work just fine! Yet the camera has a lot of features professionals or learners can use!
I like the size! It is not as bulky as most DSLRs, but does the job of one!
A great feature is also the ability to look through the viewfinder when viewing pictures! They pop right out at you! I am able to see every eyelash on my kid etc! This helps to decide if a picture needs to be deleted or not, that would not be possible on a small screen! Another great feature is the ability to take pictures while filming!!!
Now, the deal breaker to me was, there is no auto zoom while filming:( It is impossible to zoom in while filming without moving the camera! The parts of the movie where I was zooming in or out came out shaking, even grinding and clicking noise from the lens moving in and out was to hear in the movie!

It was also upsetting that only 5 days after I purchased it, the price came down to $499. Over $100 less than I paid. Amazon would not price match ( I might have kept it for hat money and use something else for movies....... But they didn't)
Now if Panasonic would ad auto zoom, plus maybe GPS and or public sharing ability, I believe it would be the best camera for beginners and pros alike!