Thenaturalalternative.co.nz Review:
The Natural Alternative | Holistic Doctor
- Dr Bernard Willis is a medical doctor who also specialises in alternative medicine. Why take dangerous medications if you can get well naturally?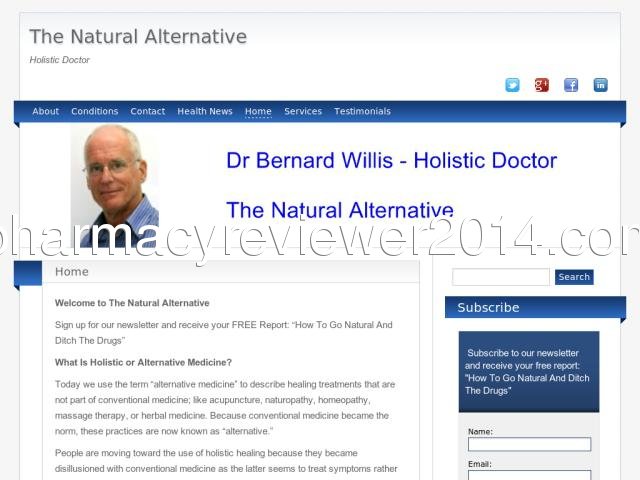 Country: North America, US, United States
City: 77092 Houston, Texas
ozark logman "oaklogman" - Oxygen Therapy using 35% Food Grade Hydrogen PeroxideThe book is real informative on the use of the 35% Food Grade Peroxide for the treatment of several diseases. The book is an easy book to read. We ordered the 35% Food Grade Peroxide and are in our 6th day of the procedure. It is to early to tell if we are getting the healing results we expect. Only time will tell. My wife is a Type II dietetic and according to the book the Oxygen therapy will take care of that. The Oxygen Therapy will also help a healthy person. It will give them more energy and repair damaged cells. This book also addresses emphysema,arthritis, cancer, bronchitis, allergies and about 65 other diseases.
L. Coe - Seems impossible- but it is the cureWhat can I say? I am the daughter of a doctor, so I did everything my doctors told me to do for 15 years: took prednisone, immurane, asacol, ate the "bland" diet. Why wouldn't I? They should know since my doctors work for a famous University. The result was I was sick 50-70% of every year. I was on predisone for 10 years straight. Then, Immurane for two years, but I was still sick several times a year. I gave up, went to the surgeon and was ready to end the years of suffering. I do not know how I found the website and this book, but I can only say I am eternally grateful! It has been a year. I am off all my meds for the first time in 15 years. I feel amazing: wokring out every day, starting a family, tons of energy. Elaine's committment to this diet and, therefore, to those who can benefit from it, is so incredible. If you are wondering if you should give it try, ask yourself what you have to lose. You have nothing to lose, except more days of your life lost to this unnecessary illness.